At LandTech we are always working hard behind the scenes to make our customers' lives easier, and speed up their development process.
In this blog, we'll talk you through some of our latest feature releases and do a deep dive into our new Policy layer.
New features:
Version 1 of our letter sending function – easily pull through the owner and property information to your letter, personalise it with your logo and signature, then download ready to send. Look out for our design flexibility, bulk sends, and physical letter sending (in-app) coming soon!


National Grid data – we now show the main power towers in England, plus the overground cables, and underground power lines.


Commercial comparable data – filter data from HMLR to show commercial sales price.


Updates to the Planning Applications layer – planning applications from 343 Local Authorities updated every 24 hours, planning appeals, and keyword searches. You have the ability to search for buzz words within application summaries, as well as the option to now exclude certain words in your search to refine results and then download up to 100 planning applications at a time, as a CSV file.


Build cost data now available in our Appraisal Tool – when creating your appraisal within the tool, under the build section there is a new line item showing the average build cost in the area. This is great for benchmarking your project against others nearby and quickly indicates the different costs of building in certain areas.
Planning Policy layer deep dive - what's new?
The different datasets you can now access from within the Policy layer are:
National & Local Environmental Constraints
Adopted Proposals from Local Authorities
Emerging Policies from Local Authorities
Strategic Housing Land Availability Assessment (SHLAA) data
Agricultural Land Classification
And best of all, you have the ability to overlay ALL the above datasets at once - to get an instant overview of which policies affect your sites.
How to use the feature:
Quickly assess which policies may affect your sites, identify potential development opportunities, and assess the viability of proposed projects.
You can choose to have all of the datasets turned on at once, or you can isolate each dataset and even certain constraints one at a time to make viewing the data easier. Use the data indicator on the right-hand side to toggle the datasets on and off, and view the handy key to understand more about the data that you're looking at.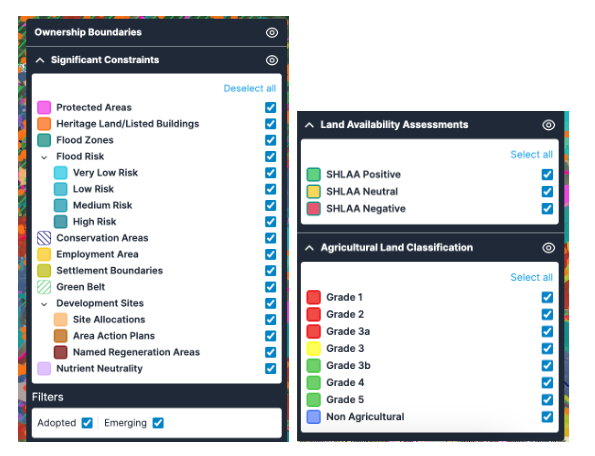 Why use the feature? Industry use cases
Property agents and consultants: This data can help to make more informed decisions about which properties to market, which projects to pursue, and how to advise clients.
Renewable Energy Developers: benefit from the above data by using the National and Local Environmental Constraints dataset to identify any environmental restrictions that may impact the development of renewable energy projects.
The Nutrient Neutrality data can be used to assess the suitability of land for biomass projects, while the SHLAA data can help identify potential sites for renewable energy projects such as wind turbines, solar farms, or hydroelectricity.
Additionally, the ability to overlay all the datasets at once can help renewable energy developers quickly assess the feasibility of a project and identify potential challenges or opportunities.

Use case: How to use the data as a residential developer:
Identify potential sites using SHLAA data: SHLAA data provides an assessment of the availability and suitability of land for residential development, which as a residential developer, is a great place to start.
Identify National & Local Environmental Constraints: have access to all constraints which may impact development.
Review Adopted Proposals from Local Authorities: This can provide information on the overall policy approach to development in the area, as well as any specific policies that may impact the proposed development.
Check for any Emerging Policies that may impact development: easily access all drafts in-app on LandInsight.
Evaluate Agricultural Land Classification: Assess the suitability of land for development, including the quality of soil and its potential for agricultural use, or evaluate the suitability of potential development sites.
Consider Nutrient Neutrality and access the data to check whether your site falls in an affected area and if you'll need to perform mitigation.
Et voila! All the information you need to consider, at the touch of a few buttons, to create a planning application with all the key data the Local Planning Authority will look for.
Leverage all these new features
Sign up for our new feature-focus series, where our Customer Enablement Manager, Chris, will take you through a webinar demo of how to utilise the Planning Policy layer at 2pm on Wednesday 24th May. If you're an existing customer, you can click here and register via our Community platform now.
If you'd like a more detailed demonstration of how these features can deliver value for yourself and your business, reach out to your Customer Success Manager who will be happy to schedule time with you.
If you're a LandInsight Unlimited user and want to see what we have in store for the next few months, you can check out our Product Roadmap, hosted on our Community platform.
The prioritisation of potential new features is influenced by customer feedback so please feel free to vote on the roadmap or let us know which new features or datasets you'd like to see.