Great news from LandTech! This week sees the launch of our all-new, end-to-end, unified ecosystem of solutions for property professionals.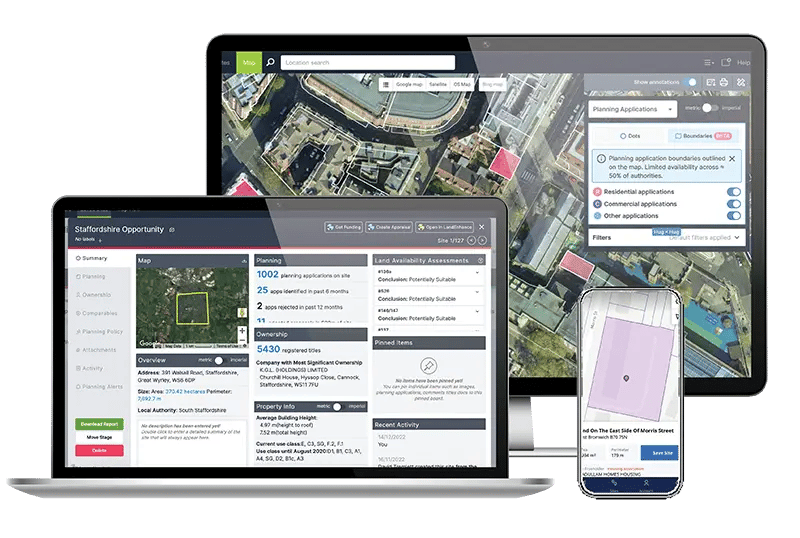 What is the LandTech product ecosystem?
Our ecosystem is the first of its kind; an interconnected suite of digital solutions that helps you manage your project pipeline from start to finish. It provides a central location for all the property data and tools that you need to collaborate on identifying, assessing and funding your next opportunity.
Incorporating unique datasets built by us and integrating data from resources like HM Land Registry, Local Authorities and many others, our end-to-end solution is the most reliable source for your due diligence at every stage of the pipeline.

Each part of our service offering - site sourcing, financing, and community engagement - is supported by its own intuitive product - LandInsight, LandFund and LandTech Community respectfully; each putting a tech twist on traditional working methods unlike anything else available on the market.

Unique to LandTech are our mobile solutions that accompany the desktop suite - LandInsight GO and the LandTech Community app - perfect for team members on the move and available for download on Apple and Android. Team members in the field can work in synergy with colleagues at the desk, prospecting and populating site reports with photography, annotations and more to quickly progress or dismiss sites of interest.

Click on the wheel below to take a closer look at each part of LandTech's new ecosystem.
Welcome to the LandTech Ecosystem
As well as helping developers find better, off-market development opportunities, the LandTech ecosystem can also help to get your projects funded, as well as providing significant competitive advantage through leading industry insight.
Find & Assess Land
Source sites faster. Source better sites. Secure better margins. Find sites that others can't. Manage and track sites across teams. And achieve it all while staying ahead of the competition.
Manage Mobile Teams
Our mobile app for Apple and Android devices, and the perfect companion for logging and managing prospective sites when you're out and about. It's not just a scaled-down version of LandInsight but is tailor-made for property professionals on the go.
Learn about LandInsight
Get Projects Funded
Spend less time finding the right lender, increase your chances of higher profits and react faster than your competitors. LandFund is our all-new consultancy service designed to make funding any size project simpler.
Create Appraisals
Quickly and easily find out whether sites are financially viable. Create detailed, yet simple to understand appraisal documents using data sent directly from LandInsight.
Learn about LandFund
Share Listings
Access regional data and heatmaps, network with peers, influence the LandTech development roadmap, gain CPD accreditation through our training tools, access thought leadership content and register for our events - all from within a single platform.
Grow Your Network
Advertise and collaborate on active opportunities within a closed network of trusted professionals and secure a new project without leaving the platform.
Learn about Community
Why you should be excited to start using the LandTech Ecosystem
We're problem-solvers, and many of us have been in your shoes as former planners, developers, estate agents and more, so we understand the challenges the property sector faces. That's why we've built the ecosystem in partnership with the people who'll be using it - to provide a solution which solves the challenges that matter to you most.
Why it matters to you:
Other products on the market are aggregating data streams to simplify the site finding process, but at LandTech, we are aggregating entire workflows - site identification, property finance, market awareness and everything in between - to create a one-stop-shop for property professionals.
Our site sourcing data is profound and helps you quickly identify viable sites with high profit potential.
We help you manage your pipeline, seamlessly integrated between mobile and desktop users.
We put a tech twist on finance, helping you write lender-ready appraisals and get funded fast via our in-house lender sourcing consultancy service.
Our in-house experts provide exclusive content, events, training, support, and data reports to help you identify development areas/sites before your competition does.
The LandTech Community helps you create new business opportunities and establish yourself as an industry leader.
How can property professionals benefit from LandTech's products?
Our innovative team is constantly exploring new data sets and working to interpret that data into a consumable, user-friendly service.
Site sourcing is quick and assessments are rich with information with LandInsight.

Ownership breakdown and alerts
Detailed planning applications and alerts
Policy (current and emerging), constraints and land availability
Power infrastructure
Property information overview
Comparables and quick due diligence

Finance is made simple and efficient with LandFund.

Lender-ready reports
Sensitivity analysis
Automatic cash flow
Informed build-cost benchmarking
Financial brokerage

Growing your professional network is rewarding with the LandTech Community.

Off-market, peer-to-peer listings
Regional reports and events
Educational and thought-leading content
Local and national networking

And alongside the tech, we provide a partnership and customer service experience like no other.

Dedicated customer success team
Bespoke training and IT support
In-house team of property experts
Product feedback loop
Businesses of all sizes and sectors benefit from adopting our products and services, from solo entrepreneurs to SMEs and national enterprises. And for global teams, we have recently expanded into the US and are building LandTech across the pond.
Quote from the CEO
It's always been LandTech's mission to simplify and democratise the property development workflow, and today we've made huge strides towards realising this vision.

LandTech has built an environment to house all the data that anyone working with property and land needs to make smarter decisions, quickly. It's a one-stop-shop platform that enables seamless collaboration between team members and departments from the initial prospecting phase, through to funding your project, and beyond.

I'm so proud of everything we've achieved up to this point, but we've still got so much more to bring to the table and will continue to lead and innovate at every step of the journey.

Jonny Britton, CEO
What does the future hold and how can you find out more on our new website?
2023 is set to be an exciting year at LandTech, with market-leading partnerships just around the corner, new datasets and further product innovations yet to be revealed, we're putting our customers' needs first.
To find out more about our suite of products, services, learning and support, you can start exploring our new website or get in touch and speak to one of our team.
Speak to us
Request demo