That's right. Barn conversions are the next big target for proactive developers.
Did you catch a glimpse of the two page spread about barn conversions in The Sunday Times last week? If you missed it, here's a link, but before you do that... have a read below.
We've put together a blog about the new policy concerning barn conversions, how it has unlocked opportunities for developers and where to find the best barns for development.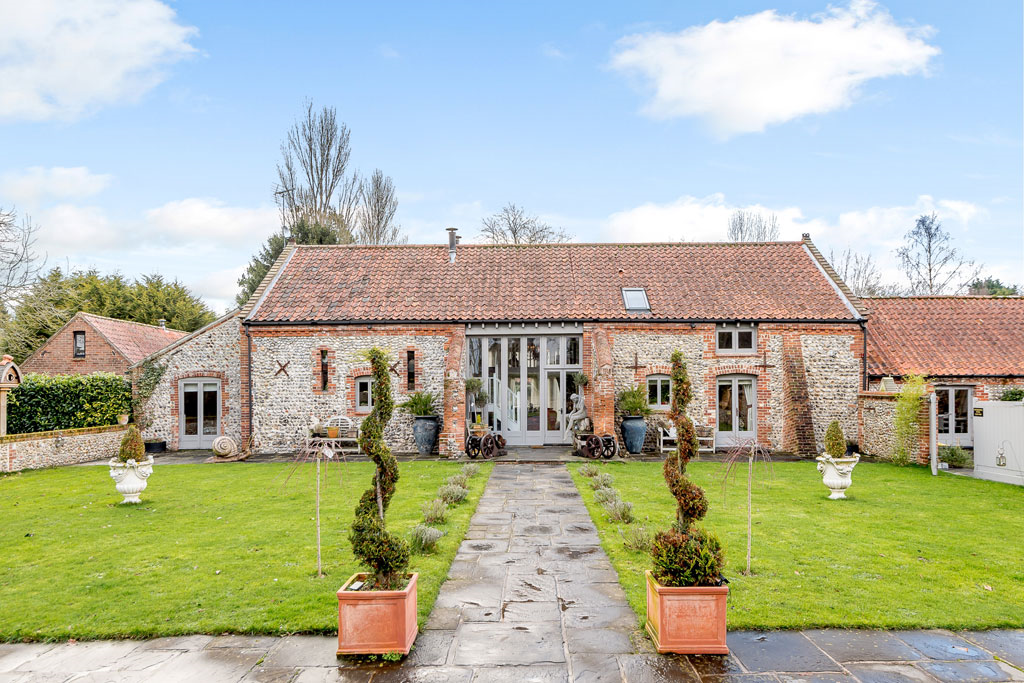 Picture Credit: Savills
What's the new policy on barn conversions?
Changes to the Permitted Development Rights (PDR) mean that agricultural buildings (barns and such) can now be developed into-
up to 3 larger homes of 465 square metres or
up to 5 smaller homes each up to 100 square metres or
a mix of both, within a total of no more than 5 homes
This is a big upgrade from the original policy which allowed only 3 small homes.
The new policy allows for the development of up to 5 new dwellings (up from 3) from a barn.
How do Permitted Development Rights help me as a developer?
Permitted development rights are a national grant of planning permission. They allow certain building works and changes of use to be carried out without having to make a planning application.
No, this doesn't mean you can completely bypass local authorities. The rights are subject to conditions and limitations to control impact and to protect local amenity. Developers will have to get prior notification approval from the local councils. For the developers who have tried getting barn conversion approvals in the past without success, don't be disheartened. The new changes clearly state that local authorities cannot resist a prior notification on the basis of the dwelling being in an 'unsustainable/ unpractical or undesirable' location without explanation.
Local authorities can no longer reject prior notification approval on the basis of the dwelling being in an 'unsustainable/unpractical or undesirable' location without explanation.
Sounds great! Where are all the barns at?
There are barns all around the country. As long as your willing to look beyond Central London, there is most likely a barn conversion opportunity near you.
Try LandInsight for free and find barns near you.
Here's a map showing the top ten councils by the number of barns (as per planning application data). The West Country takes the lead, but there are still a few surprise councils in there.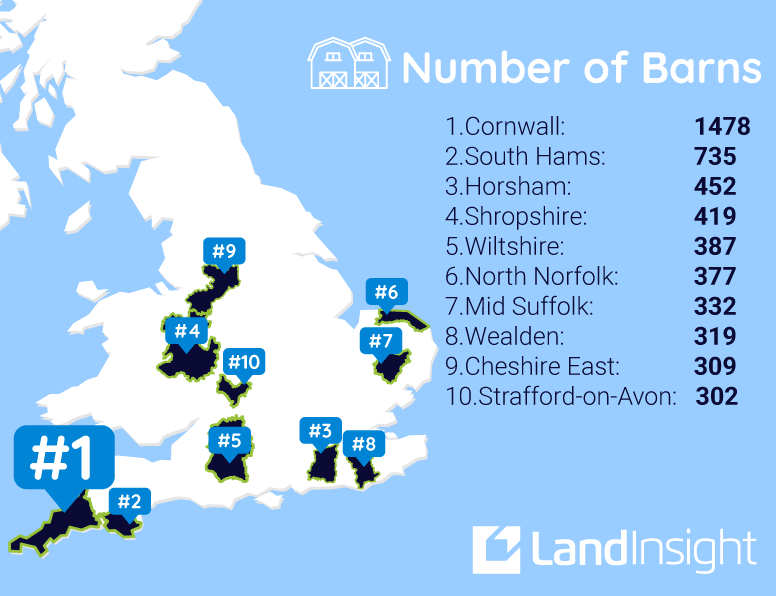 You might want to focus your search on areas with a high density of barns. That way you will increase the odds of finding the site that suits your specifications and budget. You might even be able to find multiple development opportunities near each other which would potentially lower the cost of development.
How do I find the farmers that want to sell their barns?
It's well and good to know where the barns are but it's impractical to send a letter to every barn owner. You need to have a search strategy. We have compiled of list of the councils with the largest number of rejected barn conversion applications.
Site owners are more motivated to sell after having faced a rejected planning application.
Farmers are more motivated to sell after having a planning application rejected. As a developer it makes sense to target these sites first. Given the new change in regulation, you may not have to make many changes to their rejected application for it to make the cut.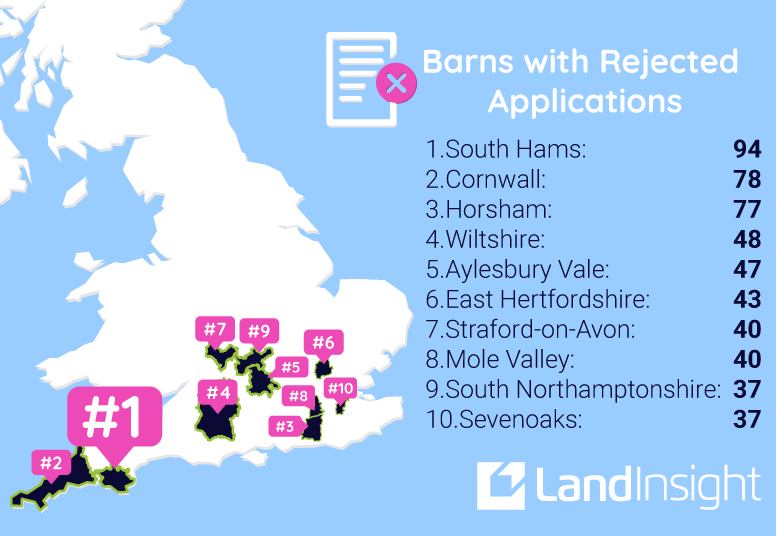 You may have noticed there is quite an overlap in the maps above. This one in particular will help you understand where to start your search. We want to empower you with strategies that give you the best chance at success.
How do I find the best (most profitable) barns to convert?
Oh simple... befriend a generous wealthy English farmer.
Just kidding. We filtered through indexed sale prices (Land Registry) and found the councils with the greatest Price (£)/sqft. We then further filtered these area to those which have at least 30 barns. These are the councils where barns conversions are likely to fetch the highest sale prices (per sqft).
Note: If you have the opportunity to, you should definitely befriend a wealthy english farmer.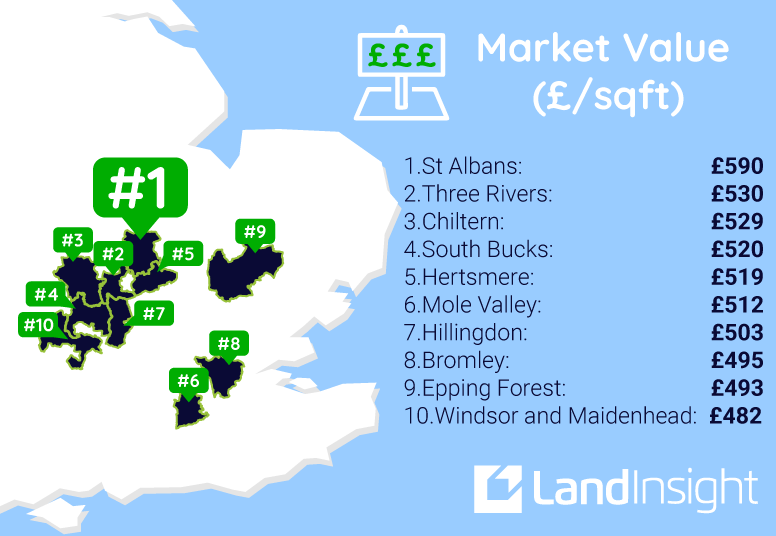 The area's closest to London do best in terms of market value, no surprises there. All of these areas are good places to start looking for sites. The big shocker is that there was one council that made two out of three lists.
The Mole Valley district is in the top ten areas for most previously rejected applications and most valuable areas by £/sqft.
The Mole Valley district is in the top ten areas for most rejected applications and most valuable areas by £/sqft. Developers targeting this area for barn conversions stand a good chance at finding those high margin opportunities.
On the whole
The new permitted development rights have opened up the market for barn conversions. Savvy developers and land agents are seeking out barns with the greatest development potential using tech. Not only do they see where the sites are, but they can also track their planning history to determine whether the owner is a motivated seller.
Cornwall and South Hams top the lists for the most number of barns. Of all the areas with more than 30 Barns, unsurprisingly, the councils around London had the highest £/sqft market value. Unexpectedly, Mole Valley council revealed itself as an area with great commercial potential for developers.
Despite the concentration of barns in these areas there are barns across the country with great development potential. They are waiting to be found by those with the right tools.