LandTech recently launched our class-leading, end-to end solution system for property professionals - The LandTech Ecosystem. But what is the Ecosystem, and how does LandInsight fit into it? Keep reading to find out more.
First of all….what is the LandTech Ecosystem?
The LandTech Ecosystem is an end-to-end system of solutions (made up of solutions you'll already be familiar with like LandInsight, LandFund and more) , which aggregate the entire property development workflow, from initial site prospecting to securing funding and everything in between. There is no solution like it on the market.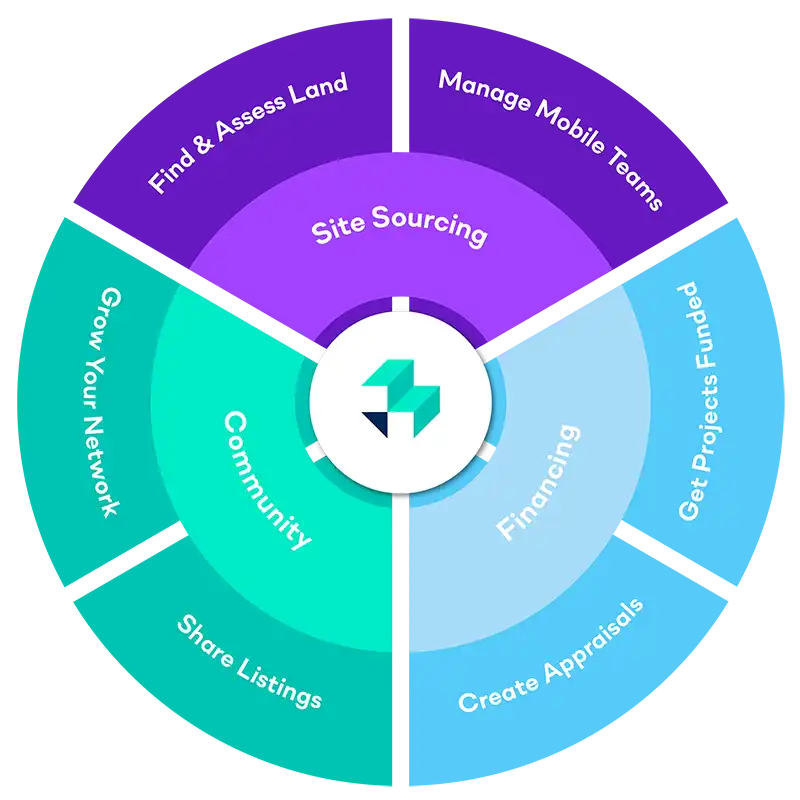 How does LandInsight fit into the Ecosystem?
As a site sourcing and appraisal tool which is part of a wider ecosystem of solutions, LandInsight benefits from direct data flows into it from other solutions in the LandTech Ecosystem.
Typically the process could start with our networking and insights tool Community, providing users with insight found nowhere else, which will help to identify areas of interest (via resources such as regional property reports and heatmaps). Community users can also access LandDeals; where users can post their land requirements and advertise their land for sale, or connect with peers in their area to explore new business opportunities.
With that market awareness and insight in hand, property professionals can look to LandInsight, and access an array of regularly updated datasets to first of all assess an area that they might have identified by using Community, and then highlight particular land opportunities within it. Management and progression of projects is also something that can be undertaken within LandInsight via the integrated site management tool.
LandInsight also boasts an mobile app companion, LandInsight GO, which enables teams at the desktop and in the field to collaborate in real-time on their site pipeline.
The final piece of the puzzle is LandFund, which (at the click of a single button) takes site information directly from LandInsight and allows users to quickly assess financial viability of projects, and create personalisable appraisal reports which can be easily digested by potential lenders.
And speaking of lenders, the LandTech Ecosystem can help there too! Our in-house lender matching service offers a personalised service which takes the time to understand your specific funding requirements, and then matches you to the perfect provider and ensures you get the best rates possible.
Welcome to the LandTech Ecosystem
As well as helping developers find better, off-market development opportunities, the LandTech ecosystem can also help to get your projects funded, as well as providing significant competitive advantage through leading industry insight.
Find & Assess Land
Source sites faster. Source better sites. Secure better margins. Find sites that others can't. Manage and track sites across teams. And achieve it all while staying ahead of the competition.
Manage Mobile Teams
Our mobile app for Apple and Android devices, and the perfect companion for logging and managing prospective sites when you're out and about. It's not just a scaled-down version of LandInsight but is tailor-made for property professionals on the go.
Learn about LandInsight
Get Projects Funded
Spend less time finding the right lender, increase your chances of higher profits and react faster than your competitors. LandFund is our all-new consultancy service designed to make funding any size project simpler.
Create Appraisals
Quickly and easily find out whether sites are financially viable. Create detailed, yet simple to understand appraisal documents using data sent directly from LandInsight.
Learn about LandFund
Share Listings
Access regional data and heatmaps, network with peers, influence the LandTech development roadmap, gain CPD accreditation through our training tools, access thought leadership content and register for our events - all from within a single platform.
Grow Your Network
Advertise and collaborate on active opportunities within a closed network of trusted professionals and secure a new project without leaving the platform.
Learn about Community
What are the benefits to property professionals of using LandInsight within the ecosystem?
The main benefit of using LandInsight within the LandTech Ecosystem is the seamless flow of information from one data source to the next, meaning property developers can manage their entire projects from a single set of tools.
While other providers are only aggregating the site sourcing stage by bringing together data streams like comparables/ownership data, planning/property info etc. (we do all this too by the way!), the LandTech Ecosystem takes this process a giant step further by aggregating entire workflows into a single place.
Community data flows into LandInsight. Site information can be sourced from the field into LandInsight from LandInsight Go. LandInsight data can be handed into LandFund with a single click. The Ecosystem is the perfect tool for property professionals looking to simplify and streamline their working practices.
How to get started with LandInsight and the LandTech Ecosystem
There are so many ways to explore and take advantage of the LandTech ecosystem.

You can find out more about LandInsight on the dedicated product page on our website, which demonstrates how all the pieces in the LandTech ecosystem fit together.