Property developers face a multitude of challenges day to day, and making informed financial decisions is crucial to the success of any project. Enter LandFund's Appraisal Tool, an innovative tool designed to provide developers with a comprehensive platform that simplifies property development financing.
Combining innovation with data-driven insight, the Appraisal Tool offers a powerful set of core features that empowers you to make informed decisions. The Appraisal Tool, part of our LandTech ecosystem, is designed to create detailed and comprehensive appraisals in minutes. These tools are structured in a way that lenders prefer, making it easier for you to secure funding for your projects.
This blog post will walk you through the significance of LandFund's Appraisal Tool in the real estate industry and shed light on the importance of financial appraisal tools for property developers.
The Importance of Financial Appraisal Tools
In today's competitive real estate market, precise decision-making is paramount. And financial appraisal tools are a key way for developers to conduct comprehensive financial analyses, enabling them to assess the profitability and feasibility of potential projects with unmatched accuracy.
With our appraisal tool, developers can evaluate various scenarios, model cash flows, and anticipate potential risks, allowing you to make informed decisions that lead to enhanced project success and profitability.
Whether it's evaluating land acquisition opportunities, optimising project financing, or fine-tuning development strategies, our best-in-class financial appraisal tool is an indispensable asset for any residential developer looking to thrive in a dynamic and demanding industry.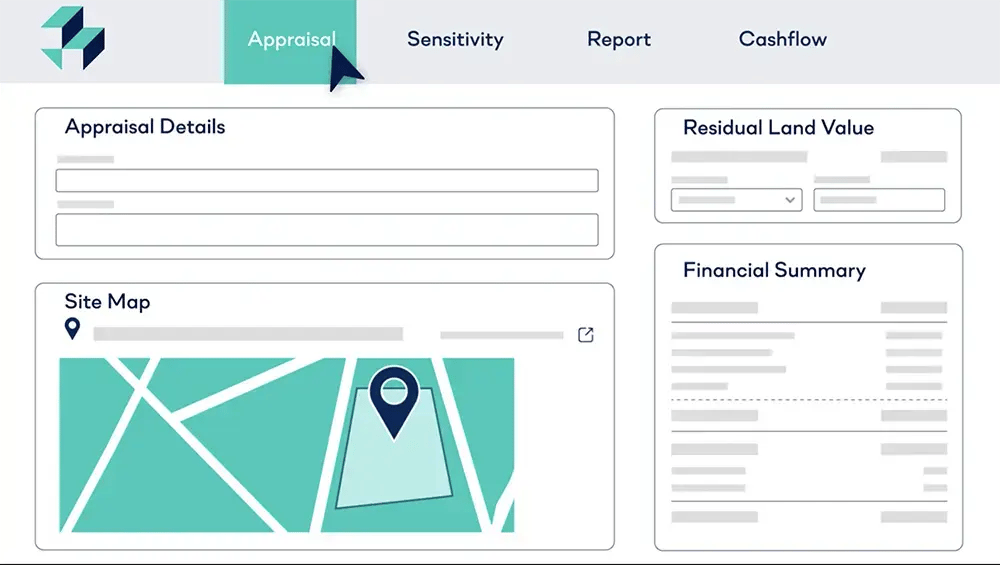 Key Features of LandFund's Appraisal Tool
Quick and accurate appraisals: empowers you to generate lender-ready appraisals in minutes. This speed and accuracy can be a game-changer in the fast-paced property market.
Custom templates: Developers can use pre-installed templates, or you can create your own custom templates, ensuring the appraisal fits your specific needs.
Build costs data: The tool comes with build costs data, helping you benchmark your projects against others in the area.
Information on CIL: You can see the specific CIL charges for each LPA in England from within the appraisal tool and easily include this into your overall costs.
Seamless integration: LandTech's appraisal tool integrates seamlessly with the LandTech ecosystem allowing you to source, assess, and fund opportunities efficiently – and all in one place.
Benefits of Using LandFund's Appraisal Tool
As we shared above, using an appraisal tool can provide a lot of benefits for your business. But we wanted to list some of the unique ways our tool can help:
Time-saving: The quick generation of appraisals and the automated cash flow saves you valuable time, allowing you to focus on other aspects of your projects. Plus, having CIL data searchable within the product means you don't have to waste time navigating to other websites.
Increased visibility: The tools increase visibility for lenders, opening up the market and enabling you to present yourself professionally with our thorough report creation.
Ease of use: The tools are user-friendly, making the appraisal process more accessible for developers.
Embedded into the LandTech ecosystem: From sourcing and assessing your site, to creating detailed appraisals and securing funding – you never need to leave the LandTech ecosystem to complete your development cycle.


LandFund's Appraisal Tool is a game-changer for property developers, offering a suite of features that simplify property development finance. By making data-driven decisions and mitigating risks early, you can significantly enhance your profitability and success in the competitive real estate industry. We encourage property developers to explore the benefits of LandFund's Appraisal Tool and take advantage of this cutting-edge solution for your projects.
Want to learn more about our appraisal tool?
To learn more and experience the power of LandFund's Appraisal Tool, visit LandTech's website today. Don't hesitate to reach out for more information or request a demo below to see how LandFund can transform your property development endeavors. Or if you're an existing customer speak to your Customer Success Manager about arranging a demo.
Your success begins with informed decisions, and LandFund is here to empower you every step of the way.
Get a demo