In July 2022, the Greater London Authority (GLA) wrote to developers warning that the national grid was running out of capacity for new homes in West London, specifically Hillingdon, Ealing, and Hounslow.
We'll be taking a look at how electricity grid capacity issues in West London are impacting construction – and the delivery of new homes in these three boroughs.
For the purposes of this blog on West London, we've included the following boroughs: Kensington and Chelsea, Hammersmith and Fulham, Richmond upon Thames, Brent, Harrow, Hounslow and Ealing.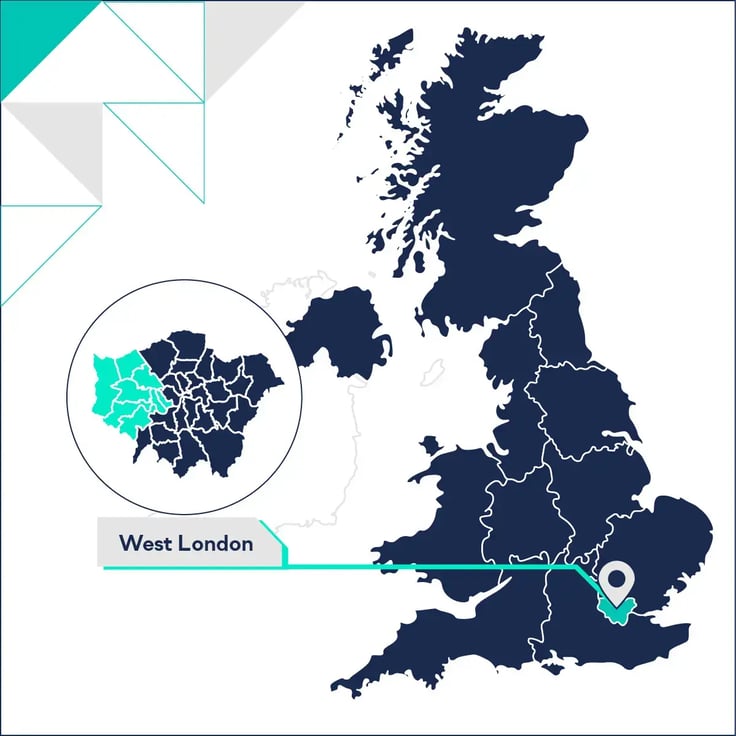 West London overview
Roughly a quarter (23.7%) of London's population lives in West London – or 2,084,160 people.
And if we look at how many new homes were built per capita in the last five years (2017 to 2022), we get an average of 4.51 new homes built per 1,000 people in West London, compared to London's overall 4.1.
Currently more homes are being built per capita than the regional average, but the recent issues raised around grid capacity may cause a slowdown.
Read our Regional Market Report: London for more data-driven insights into the capital's housing market.

Grid capacity in West London
Hillingdon, Ealing, and Hounslow have accounted for nearly 20,000 new homes being built over the past five years (2017 to 2022). To put this into context, they were delivering 11% of London's new homes in that period. Although not comparable to the high housing growth in some boroughs like Tower Hamlets, this was still significant in terms of delivery for London.
However, in recent years, data centres have been springing up across this part of West London due to the accessibility of fibre optic cables placed along the M4 corridor. The increased pressure on the electricity network prompted the GLA to write that major new development applications "will have to wait several years to receive new electricity connections." The limited capacity on the grid is expected to persist until 2035 when upgrades are expected to be made to the network.
Rightfully, this caused a lot of uncertainty for developers looking to build in these three boroughs – and other impacted areas.
LandInsight's data: What is grid capacity in West London?
Part of our offering with LandInsight is the compilation of power data. In our power layer, developers can see the RAG (red, amber, green) status of substations in their target area.
Power companies use different traffic light systems to highlight the capacity of their substations. If a substation is marked as red, it typically means there's less than 10% of capacity remaining and it will be unlikely to meet new local connections.
Looking at the data from LandInsight's power layer shows that:
Ealing
Three out of seven primary substations are red. Another two are at amber.
Five out of seven bulk substations are red.
Hounslow
Two out of six primary substations are red – or one-third.
Two out of four bulk substations are red – or half. Another is at amber.
Hillingdon
One of their six primary substations is red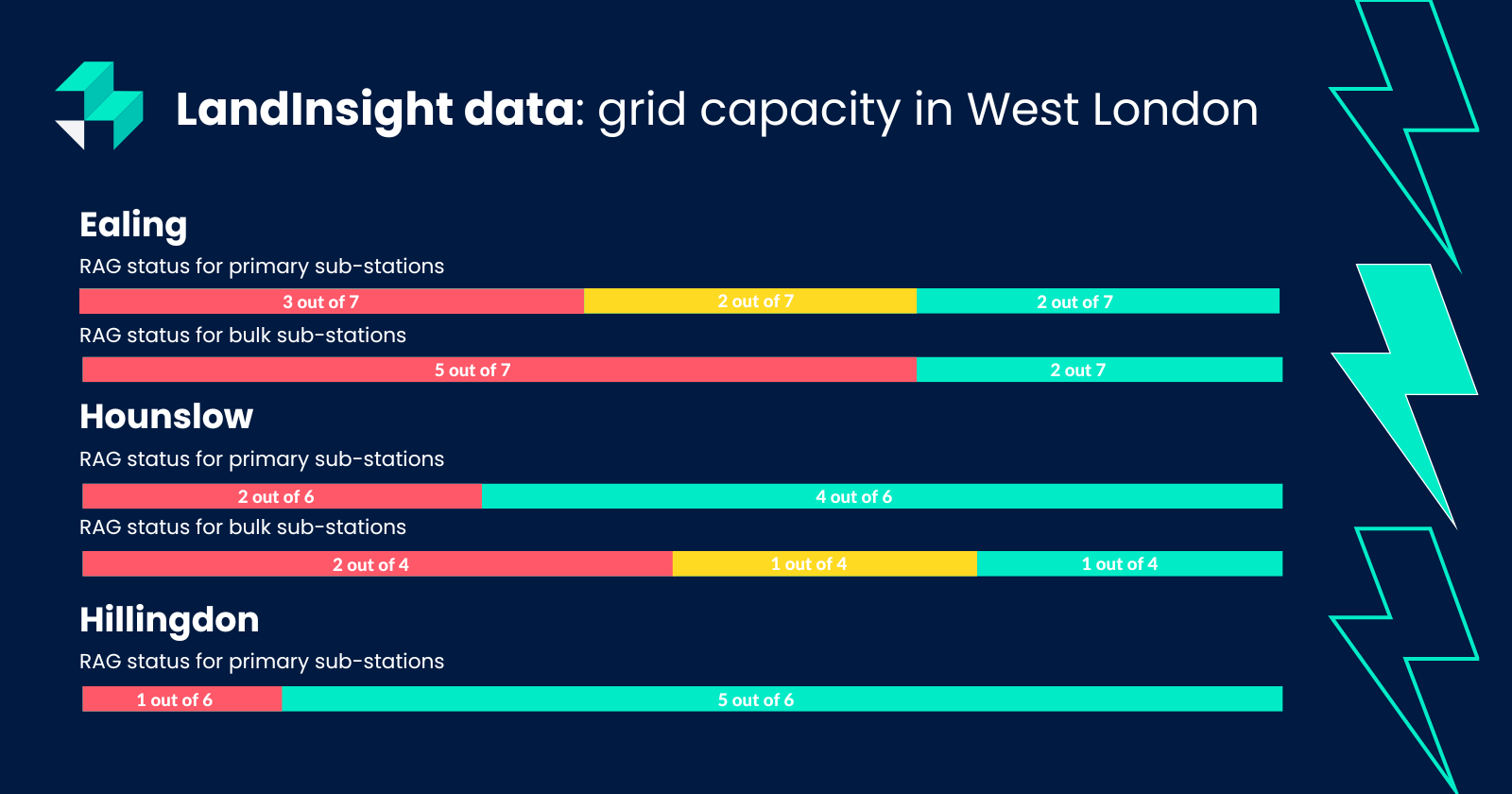 From the data, we can see that Ealing and Hounslow are already facing capacity issues on their electricity network, and this is likely to only worsen as data requirements intensify – and if more new homes do get built.
Hillingdon is slightly further west so capacity isn't being squeezed just as much.
The impact of reduced grid capacity on developers
So, how are developers expected to navigate grid capacity limitations in West London that are set to persist for at least the next 10 years?
There has been a recent slowdown in the approvals of mid to large-sized schemes (above 25 dwellings) in the affected areas.
Moving forward, we may see an increase in smaller schemes coming through, which naturally have a lower burden on the grid. Particularly, after the SSEN and the National Grid said that any schemes requiring less than 1 megavolt ampere (MVA) will not be blocked.
Population projections for the next 10 years also indicate that the issue may not be as sensational as it was initially perceived to be. The ONS predicts that both Ealing and Hounslow will see negative population growth in the next 10 years (-8.7% and -4% respectively).
Hillingdon is expected to see positive growth at 4.7%, but this is a slowdown from what we saw in the preceding 10 years.
This does slightly ease the pressure for new homes in these three boroughs. However, with upgrades to the electricity network still over a decade away, capacity constraints should still play into your due diligence process.
Power up site sourcing with LandInsight
With LandInsight, you have all the substation data you need at your fingertips.
Use our site-sourcing tools to find and assess sites, then instantly check the capacity of nearby substations with our power layer.
Want to learn more about how LandInsight can help you to find the right site even in challenging circumstances?
Other content you might be interested in: