Good news! You can now view all planning application boundaries on LandInsight, making the search for your next development easier than ever before.
What does this mean? Well, you can now see the boundary for all planning applications that we have a boundary available for.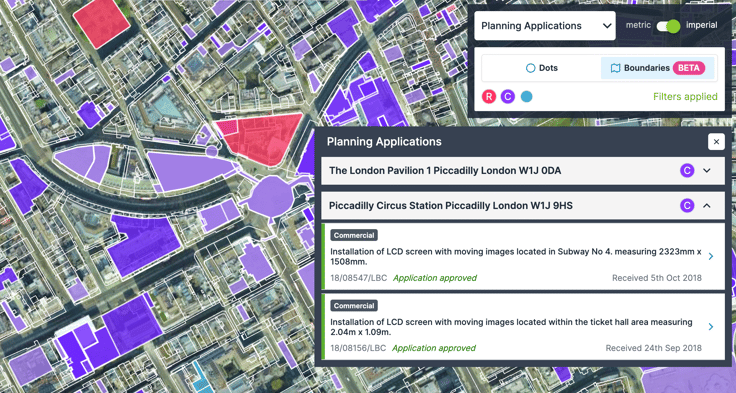 Why are planning application boundaries useful?
To put it simply, boundaries give you a fuller picture.
It means you can clearly see the extent of a planning application and the area it impacts.
For example, if there's a large site that spans multiple parcels of land then the boundary will give you a clear indication as to the scope of the potential development.
Additionally, boundaries allow you to quickly assess the planning history of a site. You'll see how an application impacts a parcel of land, helping you understand whether a site is earmarked for development or not. Plus, where the application doesn't impact the whole parcel, you'll know there may still be potential for further development on the site.
With LandInsight, you'll get the planning context you need without having to trawl through documents in search of those pesky red line boundaries.
What data do we currently have?
We have boundary data from January 1st 2018 across 25% of local planning authorities, and from September 1st 2022 across 25% of local planning authorities.
We're working hard to secure data for the remaining planning authorities and reach full boundary coverage. As soon as we have more data, we'll tell you.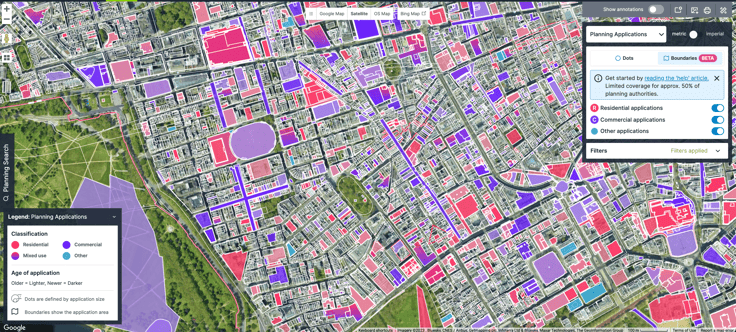 How do I view all boundaries?
You'll be glad to know it's easy.
Open the planning application layer
Select the 'boundaries' tab
Boundaries will appear for all applications we have a boundary for
Click the boundary to see all associated planning applications


What's next?
From improved visualisation and greater control to the introduction of planning appeals, we've made some big changes to LandInsight recently.
It's important for us to continue making market leading improvements to our products, and to do that we need your help: visit the LandTech Community Roadmap and vote for the features you want to see the most.
As for planning application boundaries, if you're a LandInsight user then you can log in to get started.
if you're not a customer yet and want to know how we can help streamline your site sourcing, click the link below.