A lot of people have been talking about the macroeconomic impact of the lockdown (including us). But I wanted to see the day-to-day impact. How has the lockdown changed life on the ground for property professionals?
So I decided to ask.
I sent out a survey to our users to see how all of this has affected them, and how they think the future looks.
I found the results pretty inspiring – and I hope you will too.
Before the lockdown
One of the biggest changes of the lockdown was the sudden need to work remotely. But, to get an accurate gauge of the impact, I needed a good idea of what life was like before the lockdown, to see what 'normal' looked like.
Question one: How many days per week did you work from home pre-lockdown?

Most people were already working from home at least some of the time
The majority of people (nearly 60%) were already working from home for part or all of their week.
That's pretty good – the national average across all industries is about 45%, according to the ONS.
(It's worth pointing out that the ONS survey also found that only 18.4% of "real estate activities" professionals had worked from home in the past week. Because this will include a whole host of different professions, it's difficult to do a direct comparison.
Still, it does show that the wider property industry has traditionally been a work-from-the-office industry.)
Remote working was already the norm for a big chunk of users
Interestingly, we also found that one in eight people were working from home all the time anyway.
The impact of the lockdown for them was probably pretty minimal (if you ignore the fact that their daily routine was probably thrown out the window by sharing their space with partners, children, housemates etc.)
Bigger companies are more likely to offer remote working
Company size did have an impact on remote working – for those at small to medium sized companies (defined as up to 50 employees), 40% of respondents said they never worked from home (the most common answer amongst this group).
At larger companies though, the most common response was that they worked from home 1-2 days a week.
So remote-working flexibility seems to come with size.
The impact of COVID-19
Once we had a pre-lockdown benchmark, it was time to see how expectations had changed.
Question two: How many days per week do you anticipate you'll work from home when things are back to 'normal'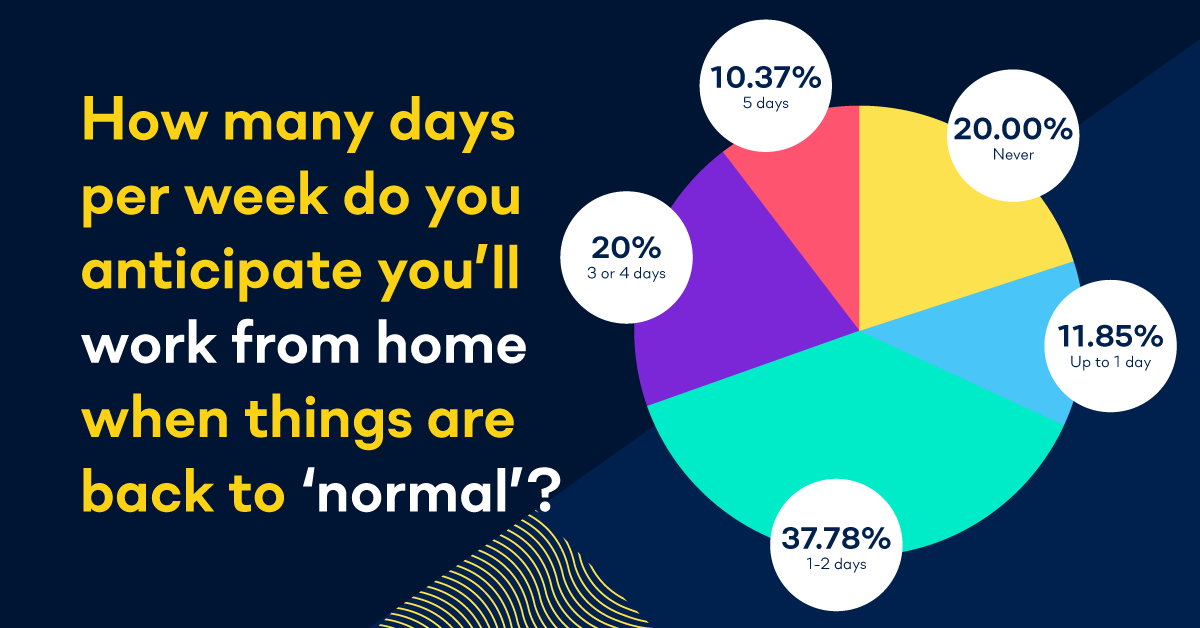 The number of people expecting to work exclusively from the office has halved
Before the lockdown, 40% of people never worked from home. Now, only 20% of responders expect that to be the case.
Of course, whether their bosses have the same expectation remains to be seen… but by proving they can do it over the lockdown period, the argument for remote working is much easier to make.
Most people expect 1-2 days working from home in the future
At nearly 38%, 1-2 days was the most common expectation.
In particular, amongst the larger companies an incredible 59% of responders expected 1-2 days of working from home to be the new normal.
Note: We weren't asking how many days people wanted to work from home. This was tracking expectations rather than desire. It could be people hope for more, but realistically expect the 1-2. Or it could be that people like being in the office for the majority of the week and are happy with that.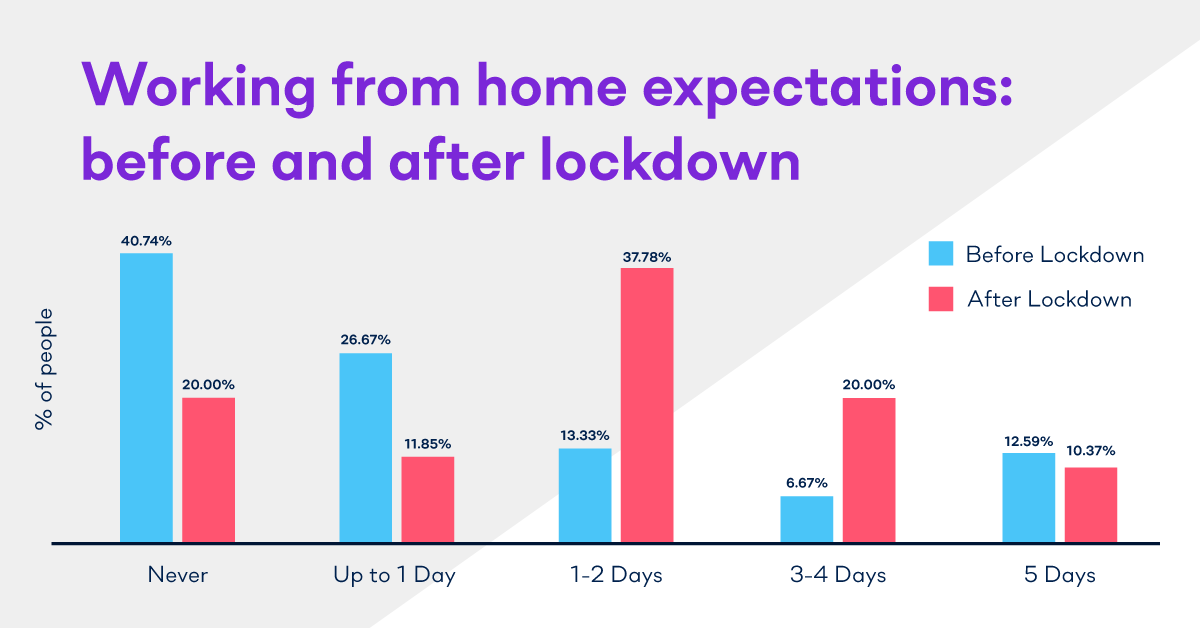 Looking ahead…
As we'd asked about how they worked, we wanted to see more about the work itself.
Question three: How has the lockdown impacted on your site-sourcing abilities?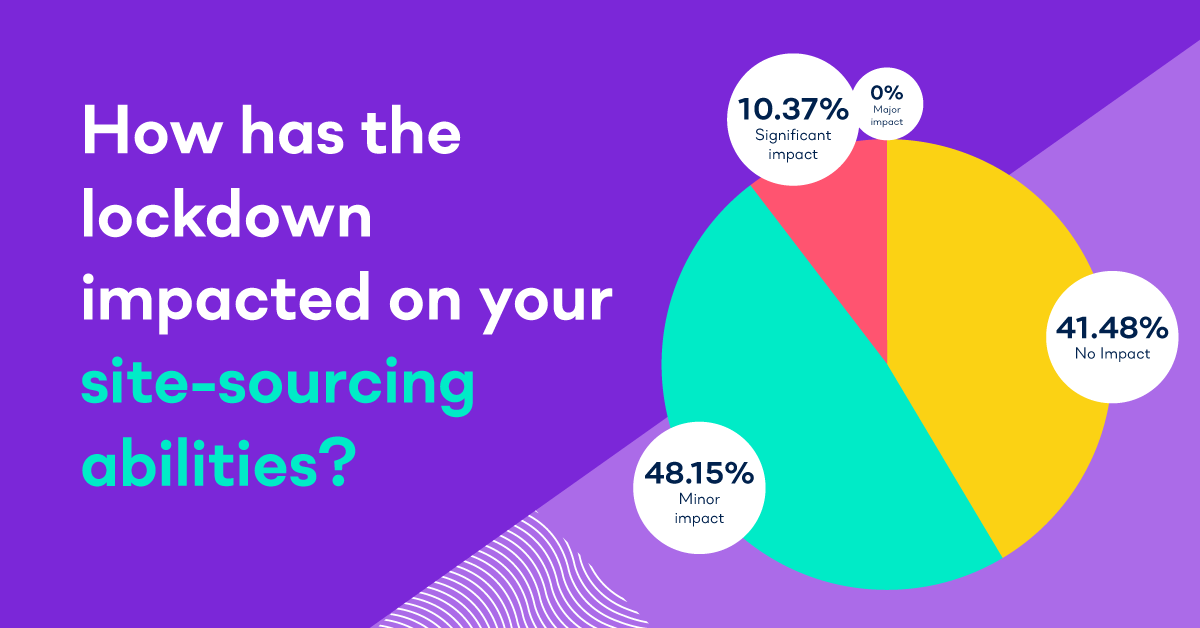 Things were business as usual for the vast majority of users
Nearly 90% of LandInsight users had seen little to no impact from the lockdown on how they source sites. And zero responders say it had had a major impact on them.
But, to be honest, that's kind of what we expected. After all, we're a remote site-sourcing tool. We knew our customers were the people most able to, well, source sites remotely.
And we offer a lot to help people do just that.
Question four: To what extent has the pandemic (and lockdown) affected your appetite to source sites?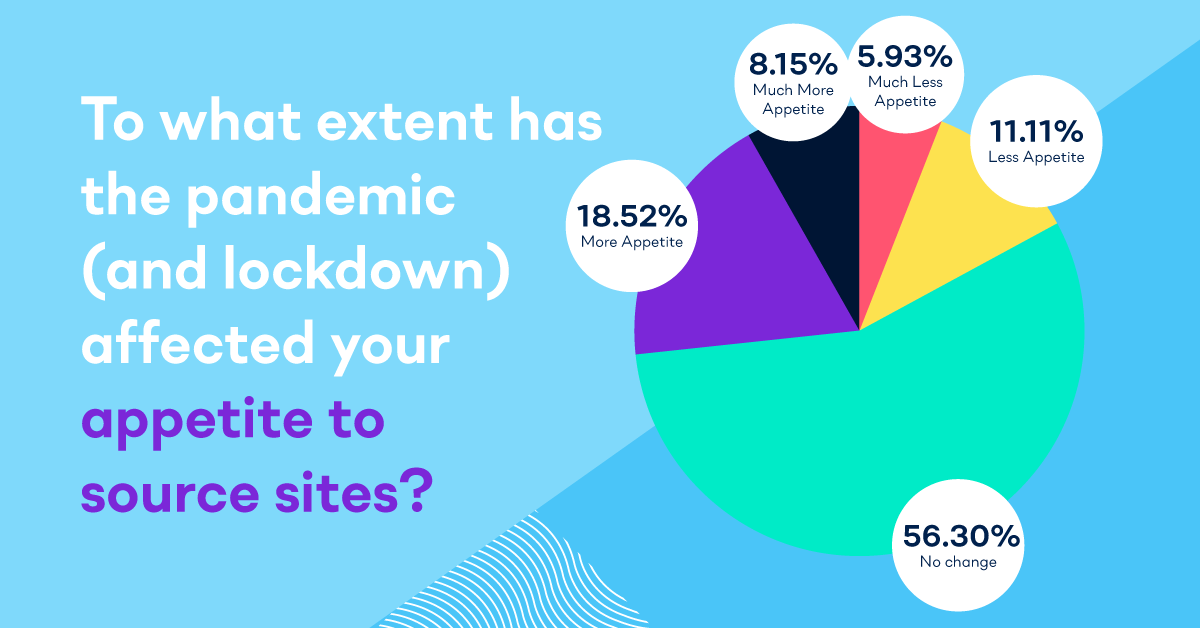 Most people expect no change to their plans
Many people are talking about the current situation in the most dire of terms, but our customers are much more optimistic. In fact, 56% reported that they have no intention of changing their plans.
They know things happen, and that the industry will bounce back. There's still a housing crisis. There are still too few houses being built each year.
The industry seems keen to keep working (and making some decent money along the way).
If anything, there's more appetite
Interestingly, at 27% more people planned to increase their site sourcing than planned to decrease it (at just 17%).
Product usage backs this up too. There was a slight dip in the number of sites saved between pre-Covid January and depths-of-lockdown April, but at only around 20% it was a much lower dip than I expected.
But something else surprised me more:
In May, sites saved jumped by an incredible 90% compared to April. In fact, they were actually 50% higher than they were in
Boris-bounce January.
It's the biggest economic shakeup in living memory, but these people know that such situations actually present an opportunity for ambitious developers. And, do you know what? We agree.
You can find out more in our free eBook: Disaster or Opportunity? Five Practical Steps for Turbulent Times
Confidence is high, and the future is bright?
What we found was that many people were already working from home. And many more plan to in the future.
Our customers have not only seen minimal impact from the lockdown, many have actually increased their output in order to try and make the most of the opportunity.
We built LandInsight from the ground up to help property professionals find and evaluate sites from anywhere. A sudden nation-wide lockdown is about as extreme a test of that as you can get.
Looks like we passed.
If you want to know more about how we can help you work from anywhere,
check out our Remote Working page