Why are we making this available?
For a couple of reasons.
Firstly, we want you to have better awareness of what we are working on right now – so you're able to think more long-term about your site-sourcing strategy.
On the roadmap, you'll be able to see some of the releases that will be available to you in the short-term, like Strategic Housing Land Availability Assessment (SHLAA) data and a better classification for planning applications (eg. commercial).
Secondly, we're keen to get you more involved in the direction of our company, after all, we're building this for your benefit.
How do we decide what to include?
We assess new ideas based on things like how many people will benefit from the change, and how important the change is for those people.
If you have any feedback or suggestions for product improvements that are not on the roadmap, you can reach out to your Customer Success Manager so they can pass it on to the product team.
Read more here about how we add new features.

Explaining the LandTech roadmap
The roadmap will be organised into a few categories: 'now available', 'in progress' and 'considering'.
You'll be able to view ideas for LandInsight, and LandFund in each of these categories.
'Now available' means it is now available for you to use within the app (package dependent). If you'd like to see further improvements, you can leave your feedback here.
'In progress' means we are working on this right now. We'll have spoken to quite a few people by this point, but if you are keen to provide more feedback to make sure we deliver the right thing, this is the place to do that.
'Considering' means we are looking for your input on them. Some things we are more sure about, and others slightly less sure about. If you are interested in any of these, please do let us know by voting for your favourite ideas.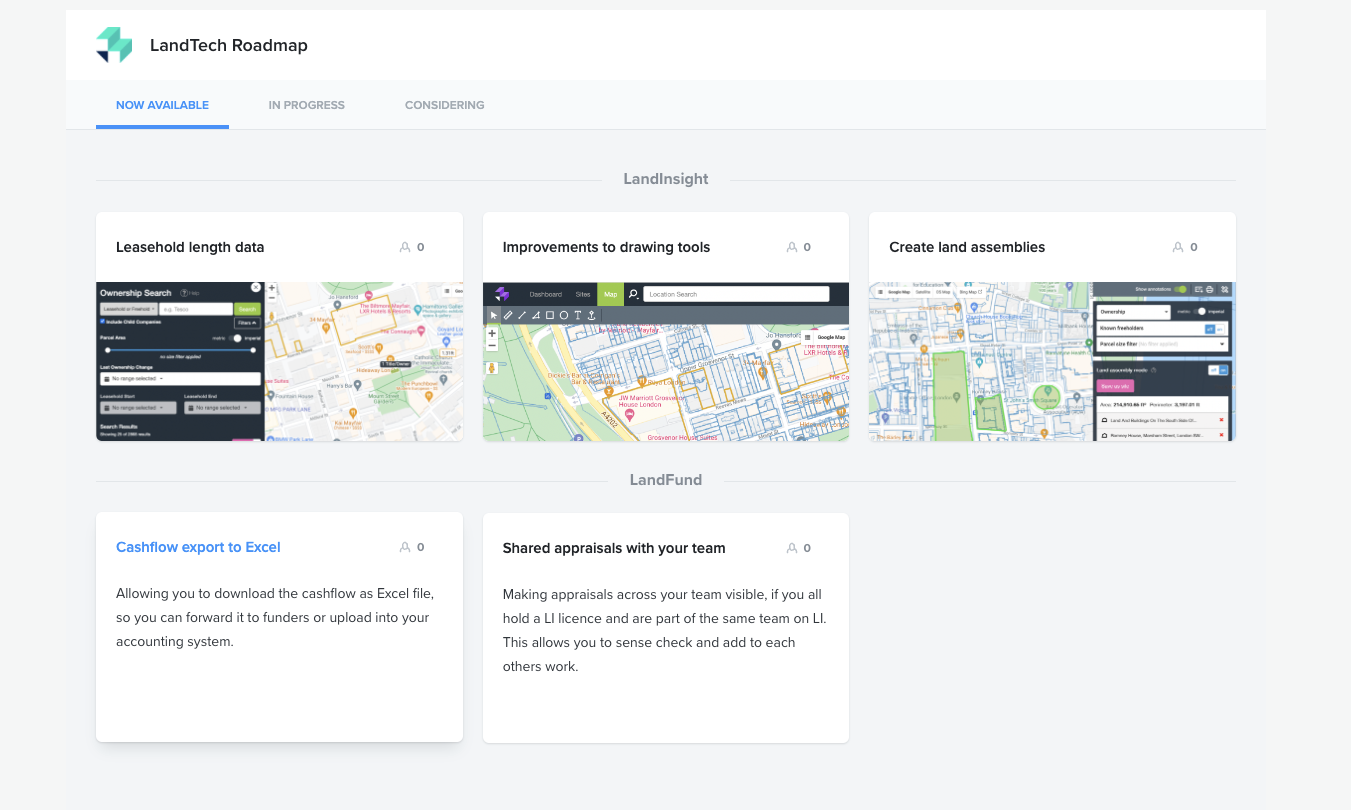 And, that's a wrap!
You can find our newly unveiled LandTech roadmap over on our Community platform. If you're an Unlimited LandInsight user, you can register for Community today by clicking the link below.
If you're not a customer, you can find out how LandInsight can make your career even more lucrative by signing up for a demo.