What do you get when you combine LandTech's powerful tools with Hometrack's rich comparables data and property information?
You get a robust array of property insights and a streamlined workflow, from end-to-end.
We're the power couple you've been waiting for, and through our industry-first partnership we're not only introducing rental market data (a new dataset for LandTech), but we're completely upgrading the way you do financial due diligence. Get ready for industry-leading comparables, deep property analysis and market data that circumvents the 13-month Land Registry lag, with Hometrack and LandTech.
Where does Hometrack fit into the LandTech Ecosystem?
Hometrack data is interconnected with the wider LandTech ecosystem and can be used in synergy to seamlessly provide users with the information and tools they need to take a project from prospecting to funding without leaving the platform.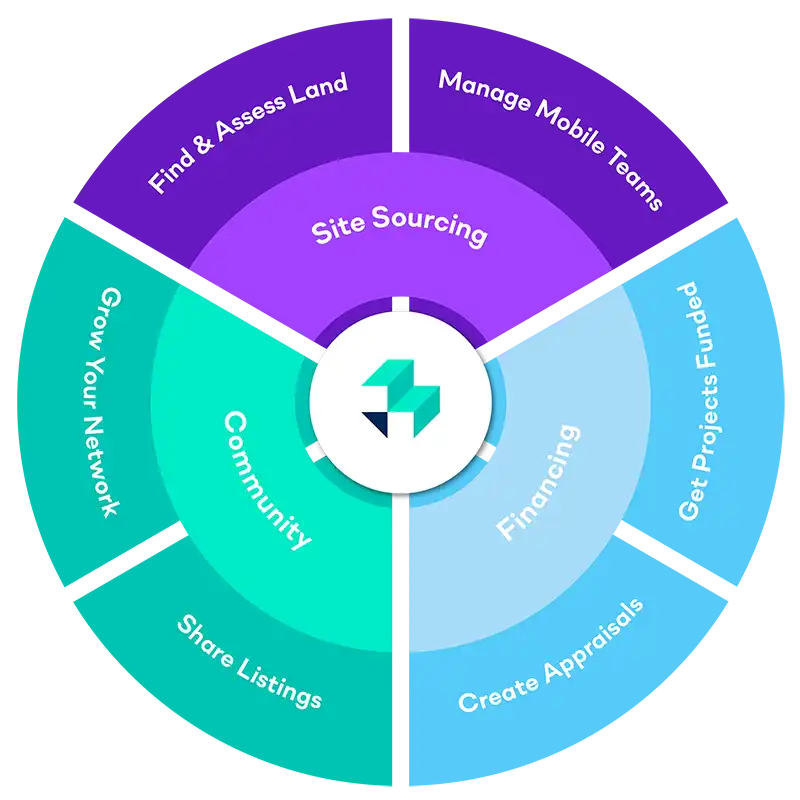 Here are some examples of how that works.
Identify potential development opportunities within LandInsight, which can then be accurately valued via Hometrack residential valuation data.
Using Hometrack residential sales and rental comparables, developers can view regularly updated achieved prices to make better predictions towards their own ROI.
Build lender-ready appraisals and then secure funding for the development opportunity via LandFund.
Identify regions of potential interest via the insight offered from within the LandTech Community and then delving deeper through Hometrack and LandInsight.
What challenges are solved by integrating Hometrack data within the LandTech ecosystem?
Hometrack's data is completely interwoven with the LandTech ecosystem, and can help you in ways you may not even realise.
At the top level, the key challenges that Hometrack's data solves are:
Circumvents the 13-month Land Registry data delay affecting 50% of all new registered properties
Brings all the information you need to complete financial due diligence and viability work into one place
Unlocks the depth of information you need to make informed decisions about the property you're assessing
Ensures the information you're dealing with is up-to-date and reliable
In a site finding and assessing context, this enables you to quickly identify property to progress or dismiss, and you'll have a greater understanding of the potential ROI that your opportunity holds even before you start crunching numbers.
From a financial perspective, your appraisal will be populated with value estimates and achieved prices of the highest accuracy, ensuring that your reports impress lenders and secure you the best funding to suit your project.
And in the community, the world of your peers, our LandDeals marketplace allows you to put your newly acquired land for sale knowing full well its true value and potential, to attract informed and eager buyers. On the other hand, if you're posting requirements or responding to land for sale from your peers, you can double-check it against Hometrack data to affirm the price or counter with an informed offer.
Hometrack's data is helping to take the financial due diligence aspect of your workflow to another level, so that you, your clients, your investors and your peers all get better value for money when it counts.
How to get started
Access to Hometrack's data does require a LandTech subscription and is a paid service available to any interested customer.
Click the button below to talk to our team and get started.
Request demo